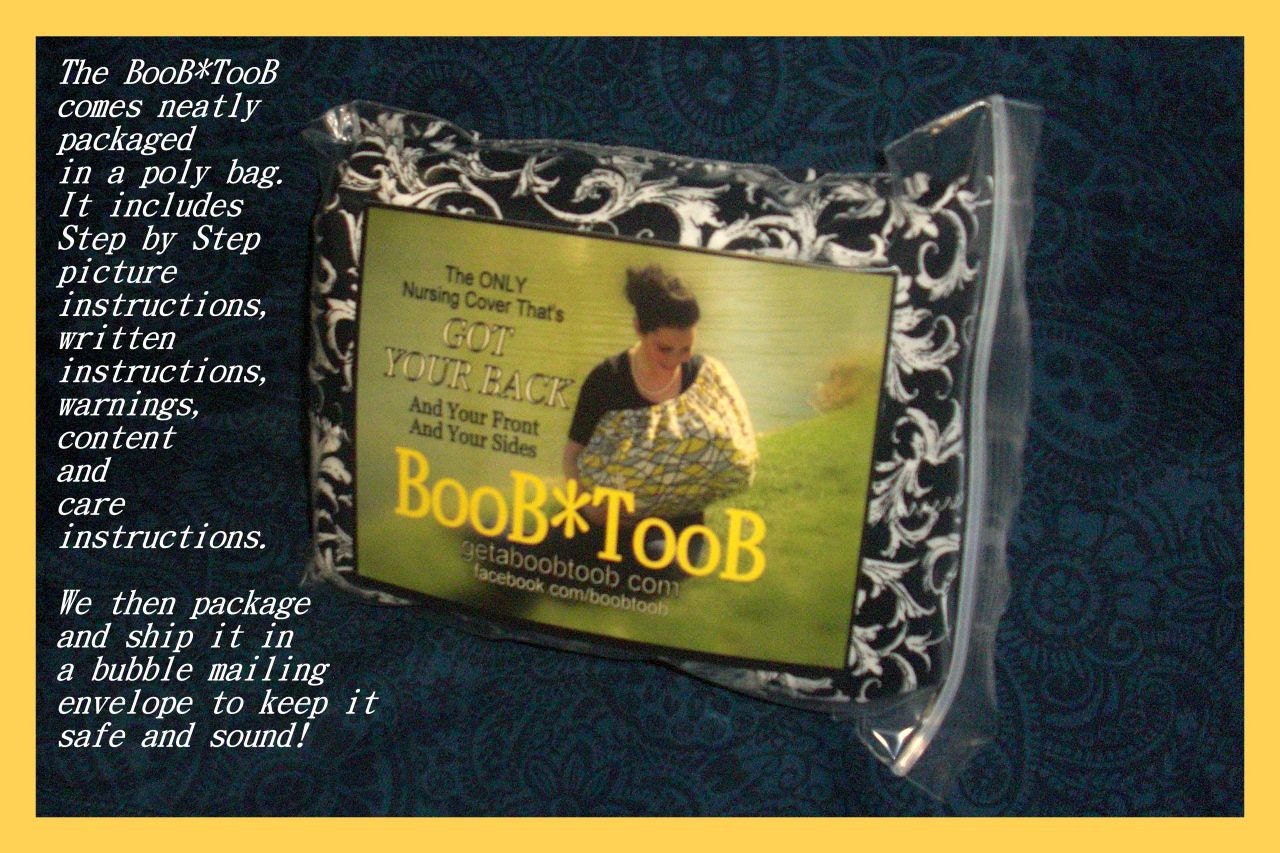 I found Boob Toob on Etsy while searching for nursing covers for the grand prize. I was an instant fan!! Nicole is a genius; because, she has found a unique way to fix the toughest part about public nursing - keeping you covered all around while your little gymnast nurses. She created a cover that actually keeps you covered!
The Boob Toob
is the world's first and only cover that has your back & sides covered - literally! It comes in several great prints (so hard to choose!) & ships super fast.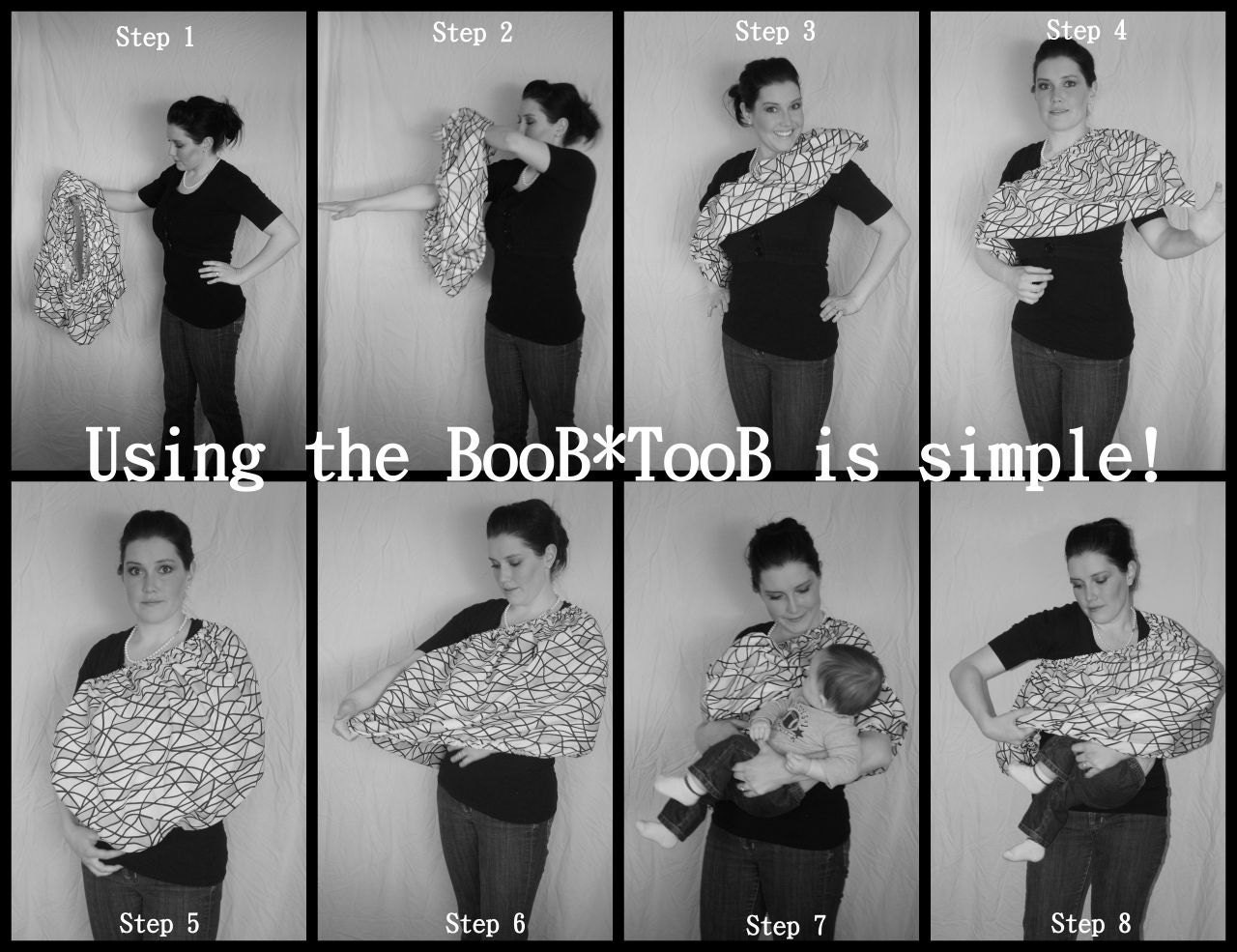 Since my youngest started using me for her teething toy, I counted down the days until she turned 1 & weaned her to be done on that magical day. I have days where I miss the bonding with her in that way, then she bites me some where else & I remember why I stopped. ;) I gave the Boob Toob to my lovely friend Allie to review for me. In fact, I gave all of the nursing products in the grand prize to Allie to review! She has a blog dedicated to her family & her life as a doula. Be sure to check it out after you read her review!
Being a mother to a two year old and four month old, working as a doula, and having a great new friend with a fantastic cloth diaper business, I was given the opportunity to review a new baby product. I suppose I've got a little experience with these things. My two beautiful babies have rocked my world and changed me forever, and it has been an adventure figuring out the best ways for me to raise them and keep us all happy -- including myself. My doula work takes me to all sorts of births to all sorts of couples; I've been blessed to be a birthing companion to new families from many different cultures. I've been documenting my experiences and collected wisdom here: http://birthofthefamily.blogspot.com. Turns out, we're all quite different; some of my favorite baby tricks may not quite be their cup of tea. However no matter the background, I have yet to find a mother who does not want to keep the ladies covered while sustaining her little one.
Breastfeeding is one of the absolute most important things a mother can do for her baby. So many don't because they find it "inconvenient". I've heard all sorts of reasons why people stop, but I've just been given a product to help with the most common frustration: nursing in public.
You know the drill; you've finally decided you're ready to get out of that house. Some friends offer to take you out to eat ... and not cooking sounds divine. You've fed the baby, she's peacefully sleeping, and your meal goes smoothly. But you're counting the minutes. You know that baby is destined to wake up at any moment and of course, want to eat. You know you'll have to go out to that car, but it's raining and windy ... yuck. If only you could sit in your discreet little corner and feed that baby without giving anyone the oh-my-word-is-that-a-boob-I-just-saw heebie jeebies.
Well, if you've got this great little nursing cover, then you are set.
The boob toob is by far the most discreet cover I have seen, and I've seen quite a few. It covers your front. It covers your back. It covers your sides. You could sit on a stool in the middle of a restaurant and nobody would be the wiser. If you happen to have a shirt on where you can pull yourself out the top, then not one bit of skin will be showing. If you do need to lift your shirt, then don't worry -- the fabric is adorable and you'll just look like you're rockin' a loose halter top.
The elastic all the way around is genius. Your baby can wiggle all she wants without pulling anything off of you. You'll have one arm out to do what you need; and that one arm is a life-saver. You could finish your food, check your phone, wrangle your two-year-old, or pull the top out a little so you can gaze into your little one's eyes. And those adorable eyes will have no choice but to look back at you, the task at hand; something invaluable once your baby gets to that 5-6 month stage and gets distracted by everything.
And last but not least ... I'm sure you're looking at this, worrying about your hair. I had no problems with that. The wrap is plenty big enough to slip off without doing much damage. Much less than your baby will to do as soon as you sit her up to burp her.
So, having used this new product for a couple of weeks now, I have nursed in parks, at stores, and at my husband's graduation from chiropractic school. I did it all without a single side-ways glance from a single bystander. I felt protected, my baby was cozy, and nursing had never been easier. In my opinion, the Boob Toob is a great tool to help moms get comfortable with one of the most awkward, yet most vital transitions that comes with motherhood.
Buy your own Boob Toob here
Get a head start on the grand prize by Liking Boob Toob on Facebook & Etsy.
Also, you can leave a comment below telling me which print you would chose if you were to win the grand prize.
***The Summer Lovin' grand prize will be open to US & Canada residents only
*** Thank you Boob Toob for providing the Boob Toob Nursing Cover & lil' squirts Nursing Pads to us for review! All reviews and discussions presented by me are to be interpreted as my opinion as I was not compensated for this post. You should always follow the directions, instructions, and guidance provided by the maker or producer of any product or service reviewed or discussed by me, and you assume the full risk inherent in the use of any such product or service. BBCD disclaims all warranties, express or implied, regarding any product other than BBCD, service, website and/or other topics reviewed or discussed by BBCD, and further disclaims any liability related to the use of thereof.
a Rafflecopter giveaway